We are glad to be a part of this site! I wanted to take a minute and let you know exactly who we are and what we do.
Dodge Off Road was started in 2005, after I had about ten years of experience with Ram trucks. I bought and modified my first Ram in 1994 and it's just been an ongoing thing for me, personally, since then. I have also had (and heavily modified) two 2001s, and a 2004.5. I'm hoping to add a 4th gen to my resume soon.
I have also built several Jeeps that were basically used for off-roading only, with a couple of them being in magazines. I have been 4 wheeling all over the country since 1997, and have covered all of the trails in Moab, most of the state of Colorado, as well as various off road parks in my part of the country (Arkansas/Oklahoma/Missouri) and places like the Badlands in Indiana. I helped build a 250-acre off road park and am working on getting another one going in the near future. I mention all of this because I want to make the point that I don't just sell 4x4 parts and build trucks - I use them, and have been using them for quite a long time. I want you guys to feel confident that when I mention a product, it has my seal of approval and that I'm not just trying to sell you something.
DOR is a small custom-fab shop that also happens to be one of the largest retailers in the world for several items. We started out with very little and reinvest our profits back into the business to expand the company and the product line. We are not your typical retailer or manufacturer that spends tons of money on advertising - we are more of a grass-roots organization, which is done to keep costs down and prices low. The only way we have grown so much, so quickly, is because of our customers referring their friends. I think this says a lot about how impressed those customers have been. I have always believed in doing things the right way the first time, and that is how the business is run as well. We sell the best products and offer the best customer service possible, not only by answering phone calls/text messages/emails quickly, 7 days a week, but also by having the product knowledge to know what the heck I'm talking about. There are so many retailers out there, and sometimes it is hard for us to be the lowest priced option - but we always beat them out in value because of the technical support.
One other thing we do that not many places can, is offer you the option of building your own parts. We have a CNC plasma table that I use to take a customer's drawings or measurements and then cut their items out and ship them right to you. Or if you have an idea but aren't sure how to make it work, we are great at figuring out the details and prototyping something. This side of the business has grown quite a bit recently, as I don't think there are many companies that even have this capability.
With all of that said, here are some items that we make and/or sell for Power Wagons:
DOR adjustable control arms
DOR 3rd and 4th gen steering braces (coming soon)
DOR diff covers/axle skids/trusses (coming very soon)
DOR 3rd and 4th gen hydro assist bolt-on kits (coming soon)
Road Rhino front and rear bumpers in many combinations (largest dealer in the world)
Pure Performance Power Wagon suspension kits
Pure Performance long arm kits
Pure Performance adjustable track bars
Pure Performance heavy duty steering kits
Pure Performance rear coilover conversion
Prodigy custom-valved shocks
Borgeson 3rd gen steering boxes and shafts (largest dealer in the world)
Progressive rate coils in many heights and spring rates
Extended sway bar end links
And we have more on the way! Our site is always expanding. Please take a minute to check out our store:
http://www.dodgeoffroad.com/store.php
And if you are on Facebook, we have a page there as well:
http://www.facebook.com/dodgeoffroad
My email address is
djgaston@djgaston.com
and you can reach me at 870.404.8975, 7 days a week. If I don't answer, just leave a quick message and I will call you back. Sometimes I can't hear the phone over all of the equipment, or I may be on the other line.
Thanks for checking us out! I'll post specific product info in separate threads. I just wanted you guys to know who you are dealing with. I'm just another Ram owner that likes to go 4-wheeling, and I happen to sell some of the best products available for these trucks.
In closing, here are some pictures of a few of the rigs I have owned:
Me wheeling the old 2001 Ram - 1 tons, locked front and rear, 16" lift, 44" Boggers, tons of wheel travel: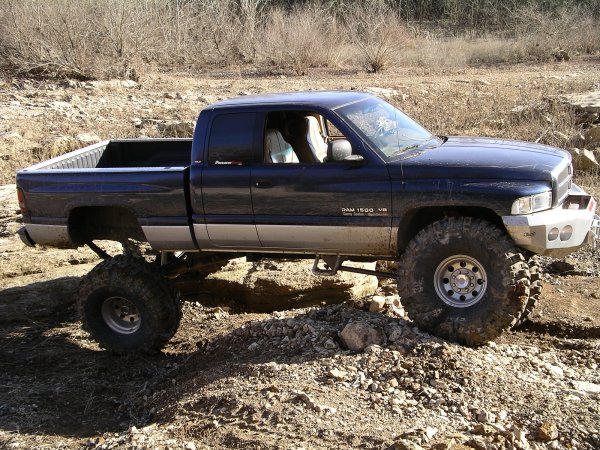 My old 3rd gen - 4.5" lift with King 2.5s from Thuren, 37" tires, manual hubs, Thuren steering and track bar, tons of power (too much... I blew it up), hydro assist steering, etc. This is from 2006 - I've been a Thuren customer since he was a Chevy guy!
My old Scrambler - 350 TPI, SM465, 1 tons, locked front and rear, 42" TSLs on TrailReady beadlocks, 3/16" dentproof steel-plated body, featured in Crawl Magazine's 2nd and 3rd issues: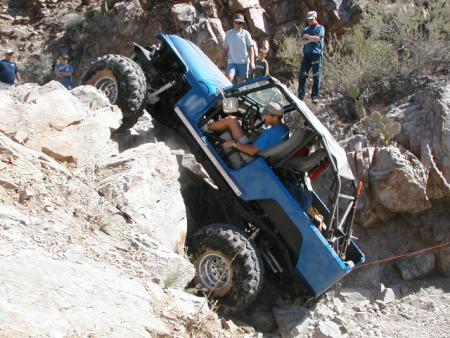 My brother's old 98 Z71 that we cut the IFS out of, built a 3-link with coilovers and full hydro steering on one ton locked axles, and then he flipped it: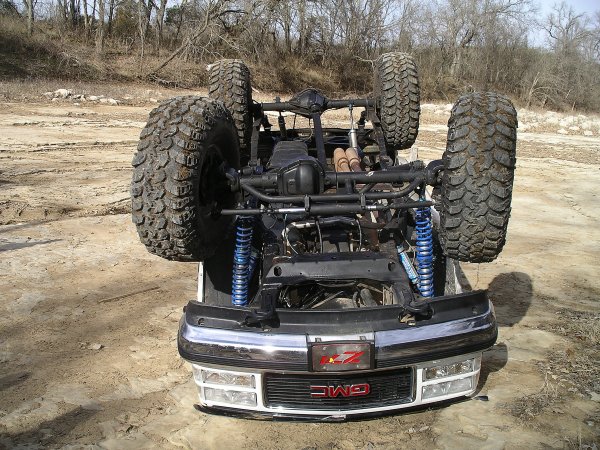 Here is my current truck, which is being turned into an incredibly capable 2nd gen. I'm about halfway there now - just need to finish the rear 4 link/coilovers and then put the Rockwell axles under it. When it's done, the stats will be 2001 V10, long arm/coilovers front and rear, Rockwell 2.5 ton axles with disc brakes and 8 lug conversion, 41" Irok radials, ARB air lockers front and rear, full hydro steering front and rear, Road Rhino bumpers front and rear, etc. Maybe a Power Wagon badge if you guys deem it worthy?
Just a quick pic down at the lake below my house:
The front suspension is already done, we build these long arms for 2nd gens (only place in the world making dual long arms for 2nd gens):
Hope to see you all on the trails!